Threadbare Soles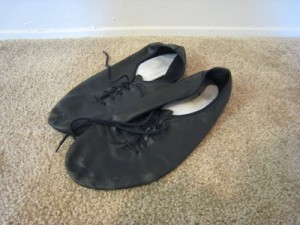 Last night was a loooong night with group work, harmonies and all that. Rehearsals are three floors up in an empty library, and there's only a window unit air conditioner in that one room. Go out into the hall and it's like walking into hell. Water is essential. It will be on Sunday, that's for sure, because that's when we go through choreography. I still have my soft, jazz shoes although they have a few paint stains from the last show I was in. I've seen worse though. Real, hard-core dancers have holes and stains and threadbare soles. It's kind of cool to see.
They were taking head shots last night in between group work, and while not actively working we were supposed to go over to the corner and get our picture taken. Well, I was in three medley's back to back and when I finally was able to go over there, the lady had split. Great. Let's see if anyone notices. I hate having my picture taken anyway.
I still want to see Inception, and would love to read and work on more stories. And so I ask: what are your plans for the weekend, dear friends?