Perspective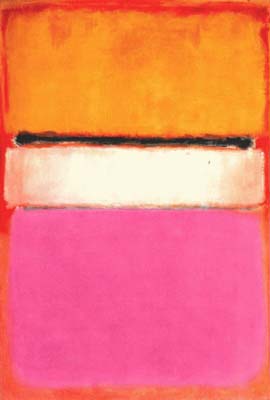 Rothko suggested by Talli
This is going to be a tough topic for me. Let's start with yesterday, I showed you the beautiful painting by Jenkins. It was abstract, which means each individual will perceive it in their own separate way. Whether or not Jenkins had a certain theme in mind doesn't matter. Part of an artist's life is accepting the fact that once a work is sent out into the world, it is no longer theirs to control.
You cannot control the perceptions of other people.
Now comes the personal part. People perceive me as outgoing and put together. But inside I am still suffering the effects of a childhood where I had to hide everything. I used to hide my friends so my dad would not get mad at me for being outside talking. I used to suppress having to go to the bathroom because I was so afraid he'd come up from reading his bible in the basement and pull out that old leather belt that he used to spank us every day. It probably wasn't until third grade that I finally started to understand that the weird feeling inside my stomach was my body telling me I had to go to the bathroom. And all these years later, it is my emotions I am trying not to hide or suppress. But there is this little girl who is afraid of being called ugly or of being punished just for being alive. I'm actually shaking right now writing about it. I just remembered the time my friend gave me a birthday present and I told her I could not accept it. It was a flute. I still have trouble accepting gifts from people.
I tell you this because you see how on the outside someone can be perceived in one way, but behind the surface there is so much going on. This is why I try to be honest in everything I do, because when I send anything out there, I know it is your turn to perceive what I am, and I want you to be given the most honest product. It is the moment before release that I panic, but once it is out there I feel a sense of happiness that finally, it is free. But I could still be more honest. Here's to trying (raising a glass of Merlot).
Once a writer sends a book out into the world, it will be perceived in a million ways, no matter how straightforward it was written. You have to let it go. Embrace that it will be seen in different ways; embrace letting go.
No matter what your intentions were during writing, or how much you tried to get your point across, or how much you want people to love it, realize that all of that is out of your control. Just write or paint or live the best you can and then release. When you send something out into the world in a positive way, it will come back to you a million times with a million more ripples of the pure intent you put into it. You will receive. This is my mantra today.
I write these things for myself mostly, and I hope I can live by my words. You know, it's funny, I have tried so hard to keep my personal life out of the blog, but the more I tried, the more it seeped in here. These last few months of my life have been, for lack of a better word, hell. I figured all of my friends here would have abandoned me by now, but you guys have always responded in amazing ways. So ironic. And so wonderful.
Thank you for the gift of loving perception. Peace.